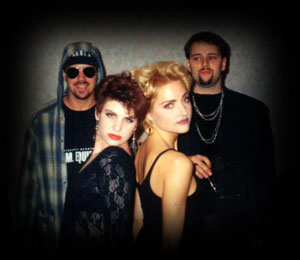 Capital Sound
Země
Kanada
Biografie
Produkce : Numuzik - Michel Picard, Luc Dubois
Složení projektu - Nathalie Page, Céline 'Katt' Guindon, Rocko T. Bello, Martin 'Bit Burn' Brunet, Toasted Morgan, Donna Pearson
Projekt Capital Sound pochází z národní kapitálové oblasti Kanady (odtud tedy název - Capital Sound).
Na prvním albu Sussex Drive, se na vokálech podíleli zpěvačky Nathalie Page a Céline "Katt" Guindon, a jako rapper Toasted Morgan.
Po prvním albu se Nathalie Page rozhodla opustit projekt Capital Sound, a věnovat se solové dráze.
Pro druhé album se stala hlavní zpěvačkou Donna Pearson, a jako rapper v písni Feel The Rhythm Rocko T.Bello, který se též účastnil na textech v prvním albu Sussex Drive. Druhé album má odlišný sound než předchozí, experimentovali s novou vlnou electro. Všechny tracky jsou smíchány, bez pauzy, tedy non-stop CD.
První album Sussex Drive, si vedlo v Kanadě velmi dobře, a byli z něj vydány singly - Higher Love, Desire, In The Night, Love Comes Around + I Can't Wait a maxi CD Higher Love + In The Night.
26.března 1995, vyhráli cenu Juno Award, za nejlepší taneční nahrávku Higher Love. Ještě měli v nominaci další dvě nahrávky.
Capital sound také získal ocenění Cheer DJ Pool v roce 1995, umělecké kategorii Top Canadian Dance/Club
A ještě získali cenu od Quebec's Record Pool's, za nejlepší novou taneční skupinu, v roce 1994.
Z druhého alba vzešli singly - Give A Little Love, Feel The Rhythm, Boogie Oogie Oogie a Your Love Is My Energy. Zvlášťe úspěšné byli Give A Little Love a Feel The Rhythm, se kterými předvedli skutečně velmi energický styl.
Poté se skupina rozpadla. Céline "Katt" Guindon vydává sólové album s názvem Libre, Nathalie Page singly s názvy Come On a This Is The Time.
V roce 2005 vydává Bit Burn album The Best Of Capital Sound (2xCD, Comp, Ltd + CD, Comp, Mixed).
Diskografie
| No: | Name | Production | Year | Download |
| --- | --- | --- | --- | --- |
| 1 | Sussex Drive | PolyTel | 1994 | Download |
Tracklist : ↓ Close ↑
1 - Promenade
2 - Love Comes Around
3 - On and On (Show Your Love)
4 - In The Night
5 - Hardware Desire
6 - Driven Like the Rain
7 - Sussex Drive
8 - Higher Love
9 - I Can't Wait
10 - Desire
11 - Memories
12 - In the Mix
13 - Trance For Me
14 - Dream World (Part III of Life)
- - - - -
| No: | Name | Production | Year | Download |
| --- | --- | --- | --- | --- |
| 2 | And The Party Goes On | PolyTel | 1996 | Download |
Tracklist : ↓ Close ↑
1 - Move It
2 - Give A Little Love
3 - Somebody Save Me
4 - The Land Of Thousand Pleasures
5 - Feel The Rhythm
6 - Tell Me
7 - Your Love Is My Energy
8 - The Odyssey
9 - El Jardin De Amor (Part 2 of Life)
10 - Boogie Oogie Oogies (Concerto In D Minor Mix)
11 - The Real Thing
12 - Love (Eturnite Mix)
13 - Paradise
14 - All I Have
- - - - -
Singly

| No: | Name | Production | Year | Lyric - List |
| --- | --- | --- | --- | --- |
| 1 | Higher Love | Numuzik Inc. | 1994 | |
| 2 | Desire (The Complete Remix CD) | Numuzik Inc. | 1994 | |
| 3 | In The Night (The Complete Remix CD) | Numuzik Inc. | 1994 | |
| 4 | Higher Love + In The Night (CD, Maxi) | DPD (Dance Pool Denmark) | 1994 | n/a |
| 5 | Love Comes Around + I Can't Wait | Numuzik Inc | 1995 | |
| 6 | Give A Little Love | Numuzik Inc | 1995 | |
| 7 | Feel The Rhythm | Numuzik Inc | 1996 | |
| 8 | Boogie Oogie Oogie | Da Grooves | 1996 | n/a |
| 9 | Your Love Is My Energy | Numuzik Inc | 1997 | |
Kompilace

| No: | Name | Production | Year | Download |
| --- | --- | --- | --- | --- |
| 1 | The Best Of Capital Sound (2xCD, Comp, Ltd + CD, Comp, Mixed) | Music Street | 2005 | n/a |
Videoklipy
Fotografie